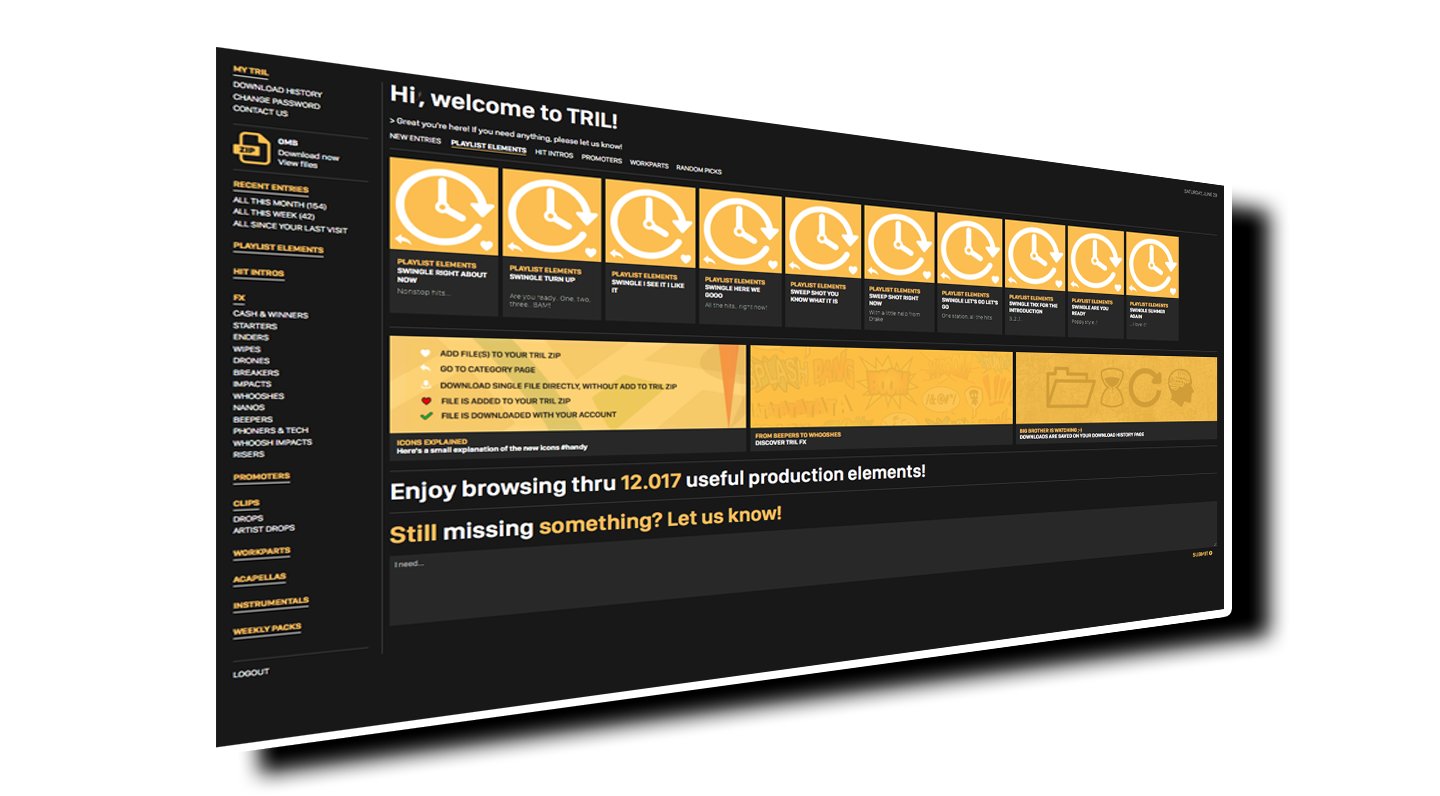 TRIL
CONSTANTLY UPDATED
EVERYTHING YOU NEED IN RADIO IMAGING
CHECK IT OUT
OUR MASSIVE,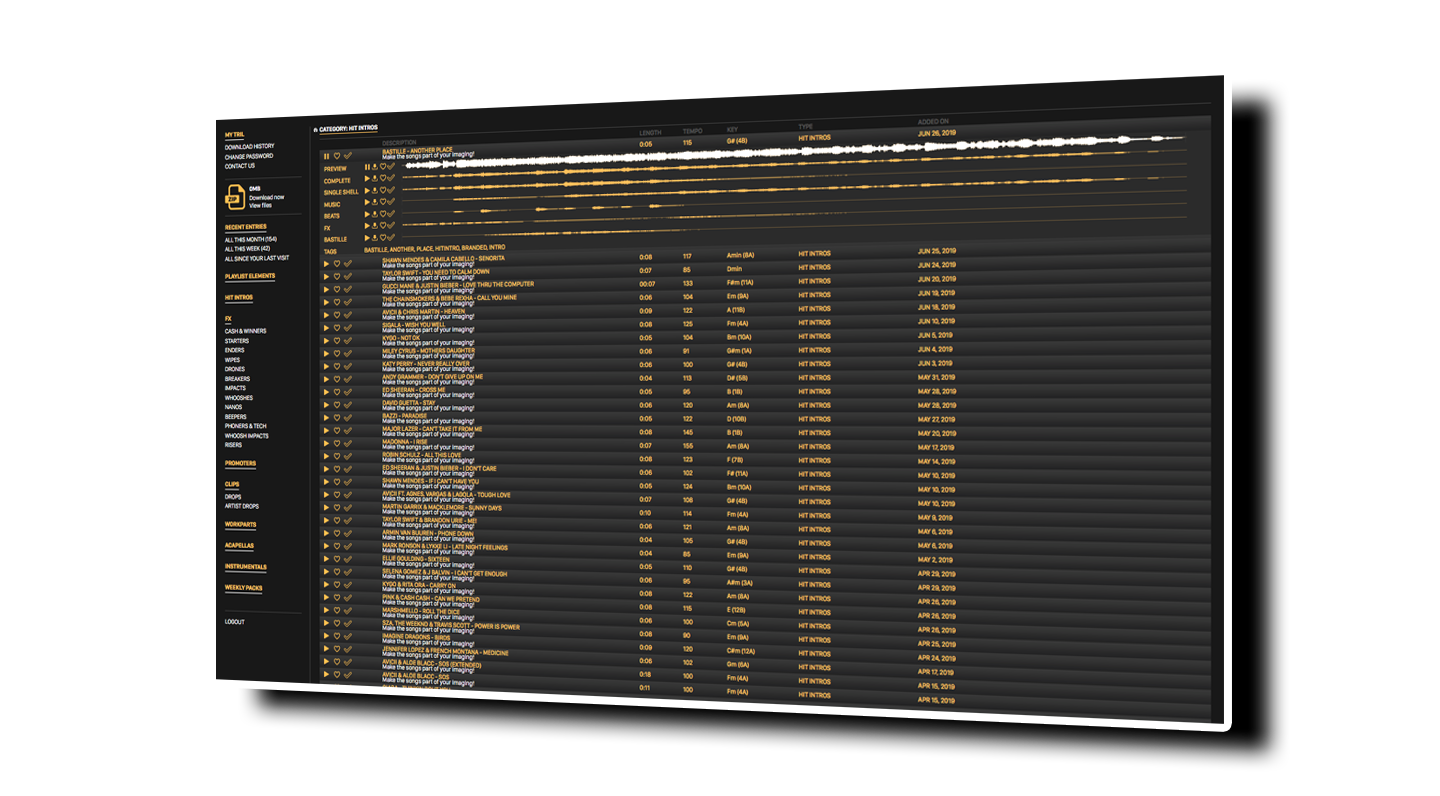 VOLUMINOUS
AND EVER-GROWING
RADIO IMAGING LIBRARY
CONTACT US FOR YOUR TEST DRIVE TODAY
FIND OUT MORE TODAY
SEARCH,
LISTEN,
...DONE
DOWNLOAD
This is how we make your station pop out.
When
every second sounds
Our complete radio imaging toolkit TRIL, is as diverse as today's pop playlists.
It's music intensive, power-packed and updated daily with everything you need in radio-imaging: Song intros, Sweepers/swingles, Top of Hours, Out of Breaks, Workparts, Promos, Drops, next generation FX, Drones, and more!
Every TRIL imaging piece features an exciting preview and shell - plus TRIL also includes separate tracks, stems and mix-outs so you can always have everything you need or download only what you want.
TRIL was the first imaging service to offer on demand custom production. If you can't find what you want, let us know and we'll create it for you. It's like having an extra producer in the studio with you, and we'll never spill coffee or steal your Red Bull.
Discover why the biggest brands around the world made the switch. Part of the TRIL Family are stations like Virgin Radio, Radio 538, CHUM FM and NRJ.
In the US TRIL is available through Syndication Networks, in Canada TRIL is represented by Orbyt Media and throughout the rest of the world TRIL is distributed by Radio Express and of course you can get your deal on this website!
If you work in station imaging and storytelling, GO to this conference! #tid
We are extremely excited to partner up with such a revolutionary industry leader! Capital Of Media will give us the slamming imaging it craves to punch in-between the music.. Keeping us rated at number 1! #tril
TOP 40/CHR Radio is always freshening itself musically. TRIL – The Radio Imaging Library by Capital of Media has the sound you need to blend in…..yet stand out! TRIL is perfect for imaging and programming multiple stations sharing one Brand. It gives you that much needed consistency across the brand! #tril
The imaging and production is among the best on the market. TRIL by Capital of Media easily rivals the current industry leaders. #tril
We made the switch to Strike Jingles and TRIL by Capital of Media. They're completely in tune with our brand! #strike #tril
TRIL by Capital of Media produces high quality imaging elements, they're on top of all the music and artists that are hot on radio right now. #tril
We are very happy with the jingles Strike made for us. I had an idea and guideline. Based on that, Strike came back to us with significant tracks that all have exactly the right feel for "Gijs 2.0". The jingles are energetic and positive, and gives your afternoon a happy feeling! The guys at Strike Jingles understand us and their profession! #strike
Working with Strike jingles is magic. Ideas for three new songs for the late night show were transformed into musically, very catchy jingles in no time. The working atmosphere is loose and the jingles are tight! #strike
Great presentations, delivered with style and loads of Q&A time made every session a tremendous learning experience. Getting to spend time with some amazing STARS of the business made the whole experience like a supercharged educational experience. I walked away feeling completely recharged and ready to take on the world again. PLUS, I made a TON of new friends! #tid
The team of Strike Jingles involves you in the complete process: from the first to the last note. This creates an ultimate result and gives your program wings. #strike
To be honest, all tracks were "one takers"! The vocal recording sessions went great, we loved that we had influence during the sessions. Also the end-of-mix phase, with a lot of extra versions that we got, made it a very good cooperation! On air? They sound VERY NICE and it gives a wonderful new sound on Paradise FM! #strike
It was great working with Strike Jingles by Capital of Media. Like no other they were able to translate Ruud's crazy and out of this world ideas into jingles and sound bites of this time. Strike was hands on and delivered a package with great diversity that's gonna lift the show to a higher level. #strike
Wanna try TRIL
on your station?